Seven New Guests for 2012!
Our 2012 schedule just keeps getting better and better, and we just adding seven new guests to the roster! We are so to have some excited faces around here, and as a bit of a teaser, a handful of them are applying for the full time position in our Grants Pass, OR location with Jeff Gogue and Canyon Webb, but you'll just have to wait to see who! First up Anthony Zamora from Pennsylvania,...
4 tags
Jose Carrasquillo Is Back Again!
Everyone here at Off the Map is excited for the return of Jose Carrasquillo starting Monday, January 23 - 25th.   Be sure to stop in for a walk-in, or better yet, call the shop and book an appointment to guarantee tattoo time! Jose's stay is short but sweet, so don't hesitate!  But, don't fret, if you miss out on getting tattooed by Jose, Daniel Adamczyk will be here...
Great Success!
Our Holiday and 6 Year Anniversary Party last night really exceeded our expectations, and we can't thank everyone who was a part of it enough! We had 175 attendees, which nearly doubled last years number, and I think it's safe to say, everyone had an awesome time. We started with amazing catering, and stayed until Dean kicked us out. Thanks to many local sponsors, we were able...
Holiday Party One Week From Today
Come join the staff and clients of Off the Map Tattoo at the Brass Cat in Easthampton, to celebrate whatever Holiday is important to you and our 6 year anniversary! This party will have so much amazing FREE stuff it would be crazy not to attend. Not to mention the general merriment, and fun!  RSVP HERE! This event is open to the public, but due to the venue it is 21+ Even if you haven't...
3 tags
We're hiring!
Off the Map Tattoo is thrilled to announce we are joining forces with Jeff Gogue to convert his space to an Off the Map Tattoo studio in Grants Pass, OR. Jeff will be a resident artist and lead a series of workshops with a world class guest artist roster. Jeff and Off the Map are excited to be working together.  Off the Map Tattoo is reviewing portfolios in anticipation of hiring a full time...
Off the Map is Joining forces with Jeff Gogue
Off the Map Tattoo and Jeff Gogue are excited to announce they will be joining forces to open a second location in Grants Pass, Oregon. Jeff Gogue will continue to tattoo and lead workshops as the head tattoo artist, but in March of 2012 his Grant's Pass studio will reopen as Off the Map Tattoo.  The studio will keep Jeff Gogue's inspiration and signature combined with a bit of the...
3 tags
Holiday Party December 21!
Come join the staff and clients of Off the Map Tattoo to celebrate whatever Holiday is important to you and our 6 year anniversary! This party will have so much amazing FREE stuff it would be crazy not to attend. Not to mention the general merriment, and fun! RSVP HERE! This event is open to the public! Even if you haven't been tattooed by us yet, come on by! Bring your friends &...
Barter Makes the World Go Round!
Here at Off the Map Tattoo we love to barter services! Do you have a useful occupation, and you want to get tattooed but you don't have extra cash? Don't fret, because we are more than willing to trade tattoo time for something else we need! If you think you may have a job or skill that would benefit us, don't hesitate to shoot us an email to check! We currently have a...
Love black and gray tattoos?
The "new guy" Max Rothert, has officially settled in and become part of the Off the Map Tattoo family after just a few months of being full time. Max has already started building a regular clientele and he's looking to add to black and gray pieces in his portfolio! Max has an amazing sketch book with lots of ideas and he's also be happy to draw you up a custom...
Shop Early For The Holidays!
Plan ahead! Avoid the lines! Off the Map Tattoo offers gift certificates in any denomination for the holidays! Tattoo gift certificates are the perfect gift whether someone is an avid tattoo collector or looking to get their first custom tattoo. We have 4 resident tattoo artists, and 40+ guest tattoo artists per year you can choose from! Gift certificates can be used for ANY of our amazing...
Colored Pencil Seminar November 13
Next Weekend Chris Lowe will be at Off the Map Tattoo doing his seminar November 13! The workshop will start at 1pm and last approximately 4 hours. The cost is $250 and it includes a copy of Chris' DVD. At the end of the seminar you will bring home your very own still life! You can sign up by leaving a deposit, or paying in full, right here! This workshop is designed to help you better...
4 tags
Dave Barton is at Off the Map Tattoo!!
Saturday November 05, 2011 Everyone here at Off the Map is no stranger to Dave Barton, he is a good friend of the shop that we are always sure to catch up with at conventions and events around the U.S.  Dave also makes a point to stop in for a weekend or two every year to tattoo his New England clients.  Unfortunately for those interested in getting tattooed by Dave this time, he is all...
3 tags
Free seminars from Stefano and TattooNOW at...
Snowboard Gal by Stefano Are you a tattooer who likes to snowboard? If so, plan on coming out to the Paradise Tattoo Gathering Snowboard Party at Keystone ResortJan 10-11th for some professional development and snowboarding! Stefano from Last Rites will be giving a free seminar on realistic tattooing (worth $250!) and TattooNOW will be giving a free seminar on marketing. All you need to do is...
4 tags
Adam Lauricella is Tattooing at Off the Map Tattoo
Adam Lauricella is of one the best guys ever, and we're really excited to have him tattooing at the studio for a couple days. Adam came up from his studio Graceland Tattoo in Wappingers Falls, NY. We were getting really nervous about whether or not we would have power, so we are thrilled things went as planned for his guest spot and he's here tattooing our clients as scheduled. ...
7 tags
Dave Barton and Kelly Doty Want to Tattoo YOU!
Dave Barton is traveling from California to tattoo at our studio next weekend and he wants to tattoo the crap out of you! Not only that, him and our resident all star, Kelly Doty would love to tag team for an awesome collaborative custom tattoo!  Just imagine their forces combined. If you combine Kelly' cuddle fish and Dave's beer shark… who knows what might happen. Dave...
World Wide Tattoo Conference
Our very own Gabe Ripley, shop owner extraordinaire, had an amazing opportunity to go to Rome last week to participate in the World Wide Tattoo Conference. He gave a seminar on businesses planning and got to share the stage with amazing tattooers including Jeff Gogue, Alex De Pase, Nick Baxter and Boris . It seems like overall it was amazing trip and this video by Jeff sums up parts of it! ...
4 tags
Double Guest Tattooers This Week!
This week we have two guest tattoo artists this week the do some awesome custom tattoos! Myke Chambers is coming in tomorrow, the 25th and tattooing through the 27th. He's fully booked for his trip, but he does have space for his watercolor seminar Wednesday at 7pm. Cost is $80 and you can call the shop to sign up! Full details here! After that Madison Casey is coming up Wednesday,...
Help Us Spread the Word & Earn Money Towards Your...
We are so happy to have brand spanking new promo materials for the shop, and we can't wait to get the posted all around the area! For the first time we have full color 11x17 posters for the shop, and we also have new double sided post cards! Big thanks to Alexis Design who created these awesome marketing materials! She's local and does a great job, so if you're ever in need of...
5 tags
Upcoming Seminars- Myke Chambers & Chris Lowe
Don't forget we have two amazing art seminars coming up in the next few months right here at Off the Map Tattoo! We are thrilled to have Myke Chambers, and Chris Lowe doing a watercolor and colored pencil seminar, respectively. Read on for details! The Basics of Traditional Tattoo Flash Watercoloring Seminar by Myke Chambers October 26 @ 7pm Cost is $80- Call Off the Map Tattoo to sign...
Humpday Nonsense! Images You Won't Believe Aren't...
Cracked.com is one of the best websites ever to kill time, and one of all time favorite features on the site is "Images You Won't Believe Aren't Photoshopped." Let me tell you, they're not kidding. It's seriously hard to believe a lot of these images aren't created by a computer.  They're fun to look at, and the commentary not only explains the...
4 tags
Ivana is Returning to Tattoo Next Month!
Ivana aka Punk will be returning to Off the Map Tattoo next month to tattoo November 2-9. We are so excited to have her back and watch her do some amazing tattoos! If you're not familiar with her work, you should be! She has a truly unique style and really makes each clients idea her own. Her work is even more stunning in person. If you would like to book an appointment with...
Get $25 Towards Your Next Tattoo!
We are happy to keep our bumper sticker blast as a year round promotion! If you missed details before, all you have to do is stop by the shop, grab a bumper sticker, put it on your car and either show us, or shoot an email with a picture to Mary@TattooNOW.com! Once you do that, we give you a $25 gift certificate towards your next tattoo! Super easy! We have tons of shiny new bumper stickers...
7 tags
Fall is here at Off the Map Tattoo
If you are here in New England, everyone knows that Fall is definitely here in full-effect!  The leaves are demonstrating their beauty with wonderful hues of red, yellow, orange, and brown.  Not to mention, everyone here at Off the Map Tattoo loves this time of year and it shows: Decorating with the change of seasons is definitely an exciting venture, where seasonal imagery often turns into...
The Guest Artists Keep Coming!
Matthew Davidson is coming to tattoo at Off the Map Tattoo from October 19-23 all the way from Indiana and would love to book him some great custom tattoos! Matthew likes the challenge of making any tattoo awesome whether it's a little star or a full custom back piece, so whatever you have in mind, Matthew will help you out!  Shoot him an email directly if you're interested in...
Tattoo Review Raffle Winner
Congrats to Debbie who won our September Testimonial Raffle! She reviewed us on Google, got entered in our raffle and won $50 to Off the Map! You can do the same! Review us on Google or Yahoo and get entered next month! Click here to review us on Google or Yahoo. This was Debbie's Review she submitted to Google that won the raffle. Rating does not effect your chances of winning. Monthly...
Humpday Nonsense
If you get bored of your desktops like I do, have no fear, Smashing Magazine releases brand spanking new desktops every month! You can also chose to have them with or without a calendar on them, so if you lose track of days, they are also functional! Some of my favorites are the festive holiday themes! They have lots of options, so you can even change it more than once a month if you...
Nick Fener Benefit This Saturday in Oxnard, CA
Nick Fener's story is one that you can't help but be captivated by. I caught wind of the events that occurred to Nick on May 20th through a few Facebook posts, and have since followed the story. Excerpts are all from NickFener.com, where his wife, who is clearly his absolutely dedicated life partner, posts almost everyday. This was a portion of the very first entry. "On...
4 tags
Follow All Our Businesses!
I'm sure by now, most of you know we have a Facebook for Off the Map Tattoo, but if you don't, definitely find the page and like us! We update everyday! However, in new and more exciting news, we just created Facebook pages for our sister businesses, The Paradise Tattoo Gathering/Artist Retreat as well as TattooNOW. LIKE THE PARADISE FACEBOOK! LIKE TATTOONOW ON FACEBOOK TOO! ...
7 tags
Paradise Tattoo Gathering, On the Road in Jiminy...
Last week we posted an article that Gunnar had kindly posted for us on the Tattoo Artist Magazine Blog Site. Well imagine our delight when shortly after, Crash (one of the guys in charge over at TAM) also wrote a great article on the convention. The positive feedback really floors and humbles us, and we can't thank everyone who's taken the time to write something, or tell us about...
9 tags
Fall themed tattoos are always in season!
Pumpkins, apple cider, halloween, turning leaves… what's not to love about fall in New England? We all LOVE fall here at Off the Map, and we think it would be a grand idea for people to come in for some awesome autumn tattoos! Need some inspiration? Well, if you insist…. Tim Senecal got to do this pumpkin tattoo and the leaf chest piece last year. Maybe pumpkin and leaf...
6 tags
Upcoming October Guest Tattoo Artists!
October is filled with lots of great guests starting with Teresa Sharpe coming from Indiana today! She will be tattooing at the shop through October 9. Next up is Joe King, who is coming to Off the Map for the first time! Joe is coming all the way from Kentucky, he's sneaking in a trip October 12-15, just a few weeks before he ties the knot! Come on in and get tattooed and help the...
Coming to Off the Map This Weekend!
Teresa Sharpe is driving in from Indiana, with not only her tattoo talent, but an art show she put on back home as well, Star Wars Vs. Dinosaurs. Teresa will be tattooing at the shop October 7-9 and the art show will be right in the middle on Saturday October 8, in conjuction with Easthampton's Monthly Art Walk. Teresa is pretty fully booked for tattoos during her guest spot, but...
3 tags
Humpday Nonsense
Are you ever on Facebook, or Tumblr, or some other random website and you see something that you just have to share? ME TOO! So today is it born… humpday nonsense posts! Not that we don't love spreading tattoo news, and amazing art, but sometimes, good old videos, pictures or posts that make you say "Holy Shit" are just as fun. Without further adieu, he is a video,...
2 tags
Seeking a Portrait Tattoo?
Well, look no further! We have tons of choices for you! There's a plethora of amazing portrait artists coming to the shop that would be thrilled to do a portrait of your parents, your kid, your pet, or anyone you fancy enough to get a tattoo of! If you're interested in getting tattooed you can email any of these talented tattoo artists, through their individual pages, or you can send...
It really was Paradise...
We would like to extend a huge thanks to Gunnar Gaylord, who wrote this for the Tattoo Artist Magazine Blog. This is his experience about the convention our shop puts on, The Paradise Tattoo Gathering. Every year we leave the show feeling accomplished and successful, but one of the largest motivators to keep it going, and not only that, but make it better, is to hear how the event has inspired...
6 tags
Star Wars Versus Dinosaurs Art Show
Next Saturday, October 8, in correspondence with the Easthampton Art Walk that happens that second Saturday of the month, Teresa Sharpeand Off the Map Tattoo are please to present the art show Star Wars VS. Dinosaurs. Join us for a night of amazing art and atmosphere as we celebrate 2 of History's greatest Time Periods.  Star Wars vs. Dinosaurs features art that combines imagery from both...
3 tags
Su Part Deux!
Sorry, I couldn't resist. Su Houston is coming back for her second guest spot starting this Saturday October 1 and she's sticking around until October 6th. It wasn't too long ago that Su came for her first guest spot, and we adored her so much, we promptly asked her to come back.  We were incredibly impressed but not only Su's ability to work in nearly every style of...
5 tags
Ty McEwen is a Super Star!
So you want to know who is a gentelman and a scholar? Ty Nathan McEwen, thats who. The gesture is still a bit over my head, but nonetheless I was absolutely surprised, blown away and on the verge of crying and/or puking with excitement. I can't believe THE ENTIRE STAFF, not to mention my boyfriend, kept this a secret from me.  Ty is a seriously amazing tattooer, and quite obviously an...
5 tags
Myke Chambers Watercolor Seminar Coming to Off the...
We are pleased to formally announce that Myke Chambers will be doing his water color seminar at Off the Map next month. It coincides with his guest spot, which too bad for you, he's fully booked for, but if you missed out on a tattoo appointment, there's plenty of space in his seminar! Check out a slideshow of his paintings here! The Basics of Traditional Tattoo Flash...
Anonymous asked: I'm just curious the typical rate per hour?
4 tags
Adrian Dominic is in the House!
It's been a few years since we last had Adrian Dominic  here at Off the Map Tattoo, and we're so excited to have him back! He came all the way from California, where he works with Shawn Barber at Memoir Tattoo. That place oozes talent, and we're happy to have some of it on loan on the east coast. Adrian is well known for his bold bio-mechanical and bio-organic tattoos, as well...
7 tags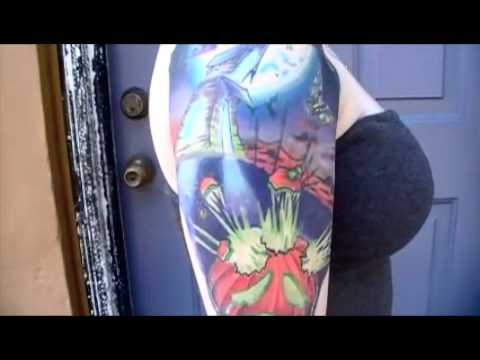 5 tags
7 tags
7 tags
5 tags
4 tags
7 tags
6 tags
6 tags